If your club uses TeamUnify and if you have uploaded the gala results for your club in to TeamUnify, then you can produce a report which shows who has qualified for the Kent champs.
If you have not uploaded your gala results I will do another post on how to get all your clubs results from rankings and import them into TeamUnify.
Here is how see who has qualified:
Login to your TeamUnify, select "Team admin", then "time reports" and "top times by athletes":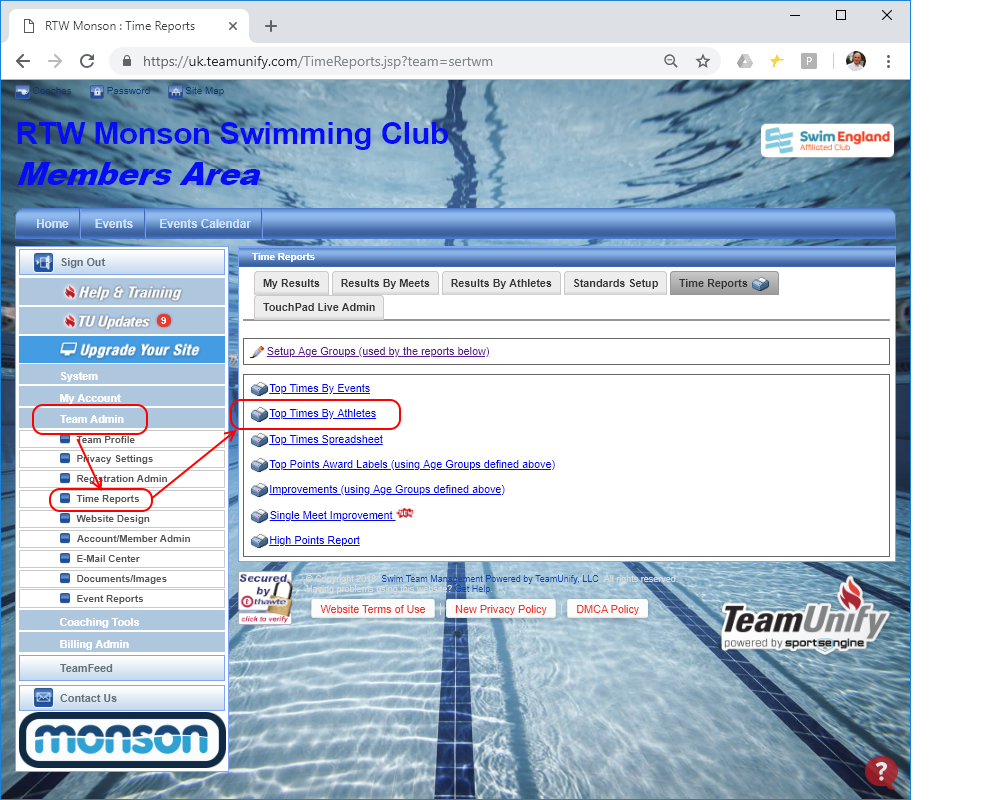 A windows pops up, in the window select:
"L&S->S" (Long & Short course converted to short course times) or "L&S->L" (Long & Short course converted to long course times). They sometimes give slightly different results, for reasons discussed below. (2020 – This is less likely now because of how the Kent times are generated, use "L&S->L" by preference)
If when you imported your results you gave each gala a meet type that matched it Licence Level, then select meet types of L1,L2,L3 & L4 (non licenced meets don't count for qualification to county champs).
Select the period "1/1/19" to "7/1/20" which is the qualifying period in the Kent conditions.
Check the 'Age up' is set to "31/12/2020″ (this is American for 'Age as at date')
Show Top 1 entries
Select the "2020 Kent Champ" time standard. The date in brackets is the Age up date, not the competition date.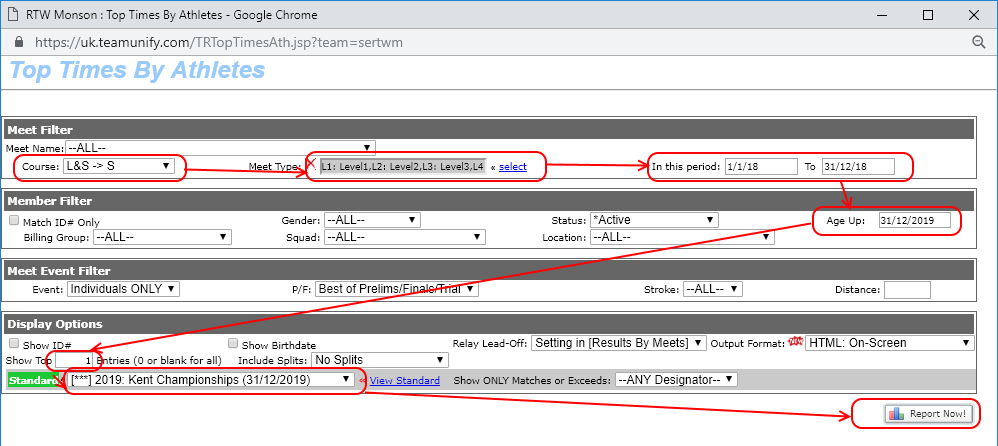 And Click Report Now…..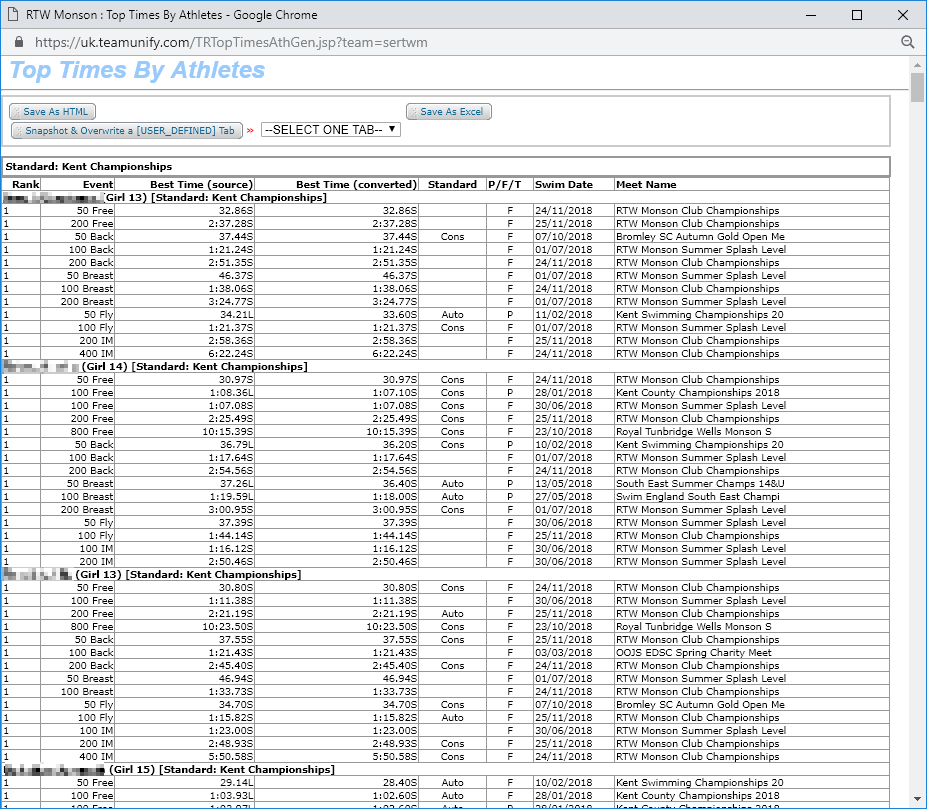 The report shows each swimmers PB and if it is a 'Consideration' or 'Auto' qualifying time for Kents.
Now you can go and remind the swimmers to enter. Unfortunately you still need to do the entries using the Sportsystems entry manager as TeamUnify does not work with Sportsystems meet files but at least you have a list of who to chase up.
Oddities and quirks
I found that "Long&Short course -> short" or "Long&Short course -> Long" sometimes gave a different number of 'Consideration' and 'Auto' times when I counted them. I eventually found out where the differences came from:
When converting SC&LC->SC, if the LC time converted to SC exactly matches an existing SC time it appears to include both. e.g:


| | | | | | | | | |
| --- | --- | --- | --- | --- | --- | --- | --- | --- |
| 1 | 100 Back | 1:20.89L | 1:19.90S | Cons | P | 27/01/2018 | Kent County Championships 2018 | |
| 1 | 100 Back | 1:19.30S | 1:19.30S | Cons | F | 03/03/2018 | OOJS EDSC Spring Charity Meet | |

There was one last anomaly I have not yet figured out but again it just told me the swimmer had qualified twice for the same event, which is no great disaster. e.g:


| | | | | | | | |
| --- | --- | --- | --- | --- | --- | --- | --- |
| 1 | 50 Fly | 33.45L | 32.90S | Cons | P | 11/02/2018 | Kent Swimming Championships 20 |
| 1 | 50 Fly | 32.79S | 32.79S | Cons | F | 30/06/2018 | RTW Monson Summer Splash Level |